Free shipping all orders over $100
4.9/5.0 from 700+ Happy Customers
Drinking water is hard. Hydrate makes it easy.
The ultimate rehydration solution, free from added sugars, chemicals, and artificial dyes — get your unbeatable energy today!
Guilt-Free & Refreshing Flavors
100% Satisfaction Guarantee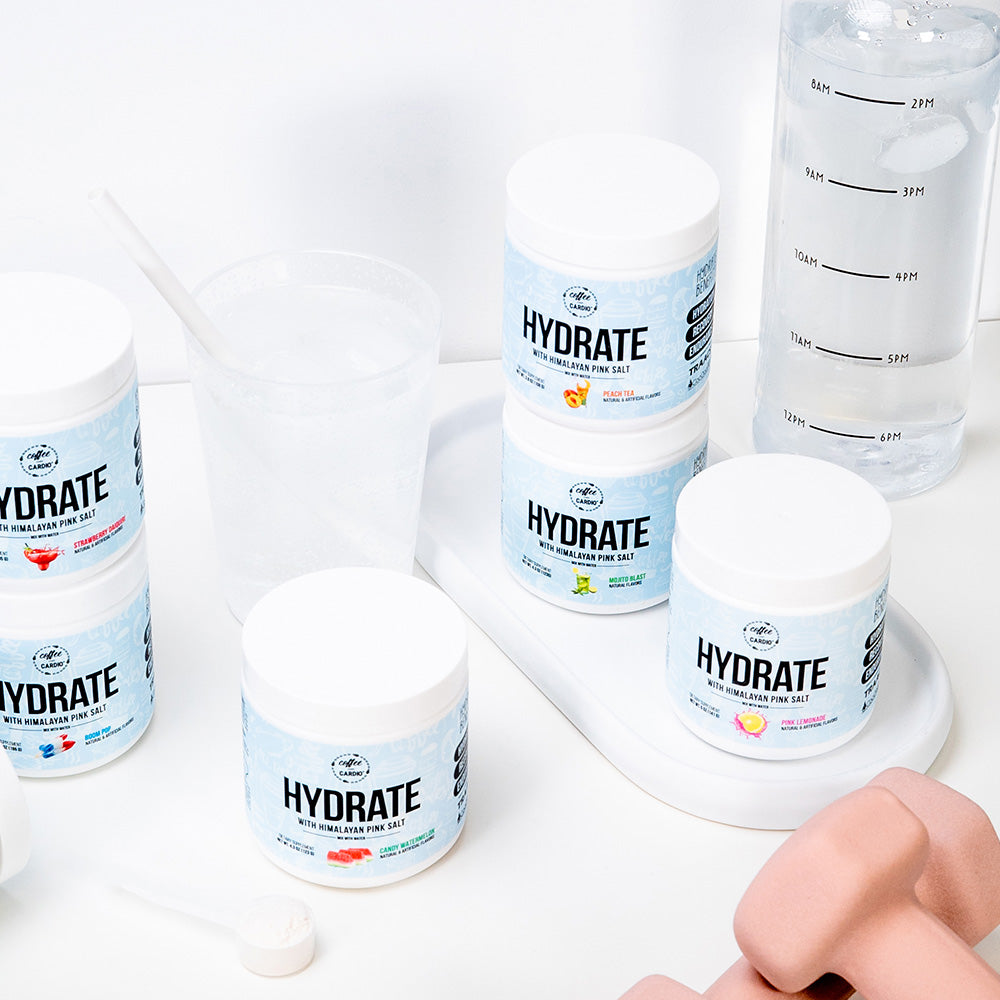 Stay Energized & Hydrated
All Day

.
3 Reasons to fuel your days with Hydrate electrolyte powder.
Hydration
Supply your body with the optimal balance of electrolytes to keep you hydrated and energized daily.
Recovery
Stress, workouts, heat, lack of water, hangovers. Each of of these can lead to detrimental dehydration. Hydrate helps replenish your body so you can feel and be your best.
Endurance
Since 70% of your body is made of water, if you aren't hydrated, your cells will not work properly. That includes brain and muscle function, work capacity, and can even lead to total body fatigue.
It's how you're supposed to feel at your best.
And it's the reason that thousands of Americans use Hydrate every day.
4.9/5.0 from 700+ Happy Customers
90 day money back guarantee
"I was hesitant to buy these as first because most electrolyte drinks taste okay and have a weird aftertaste, but this totally blew my mind! I drink this all the time when I want something sweet without all the junk in it! It's so yummy! 💕💕 Will definitely be buying again and trying the others"
How To Instantly Feel More Energetic & Hydrated
Simply Mix 1 Scoop of Hydrate with Water Daily
It's as effortless as that! Hydrate offers incredible versatility.
Watch Our Potent Formula Get to Work
Our seven science-backed ingredients take charge. Relax and get ready for an energy boost!
Unlock Boundless Energy & Vibrance Every. Single. Day.
Follow our easy directions, and prepare to revel in your best self—inside and out.
4.9/5.0 from 700+ Happy Customers
Are You Tired of Feeling Sluggish?
Studies show 75% of americans are dehydrated and are lacking electrolytes.
Do any of these sound familiar?
Drinking less than 8 glasses of water a day
Headaches through the workday
Mid-day fatigue and tiredness
Muscle soreness after workouts
If you answered "yes", chances are, you're dehydrated.
Most aren't aware of hydration's pivotal role in daily life. Think of it as an 'energy gauge' quietly shaping your vitality. It adapts to demand, boosting your energy levels.
Yet, factors like prolonged inactivity, stress, and insufficient hydration can nudge this regulator into a conservative mode.
When your hydration 'gauge' conserves energy, it leads to depleted vitality, sluggishness, mental cloudiness, and discomfort. It's like being stuck in low gear, hindering your pursuit of vibrant energy.
You're in luck. We have a solution that will make life easier — Hydrate.
Discover how it can help you break free from the dehydration cycle, rediscover daily vitality, boost your recovery time, and increase your endurance.
"Best flavor ever! Makes drinking water and staying hydrated like enjoying a sunset on vacation experience"
Hydrate
Supercharge Your Energy & Hydration
Take your performance and recovery to the next level with Hydrate; rehydrate your body and feel unbeatable without the added sugar, chemicals, or artificial dyes. Unlock the power of hydration with Hydrate! How hydrated are you feeling today?
Take your performance and recovery to the next level with Hydrate; rehydrate your body and feel unbeatable without the added sugar, chemicals, or artificial dyes. Unlock the power of hydration with Hydrate! How hydrated are you feeling today?
Unlocking the Magic in Every Scoop
Hydrate boasts seven key ingredients with scientifically validated benefits.
80+ minerals, detoxifies, reduces BP, boosts digestion & improves sleep quality.

Rich in hydration electrolytes & B-vitamins like riboflavin, niacin.

Key in 600+ enzymes, boosts fitness, heart health, sugar control & sleep.

Strengthens bones,muscles; regulates blood, nerve signals, and clotting.

Vital for protein, ATP, kidney function, muscle, heart rhythm, and bone health.

Balances fluids, BP, muscle & heart health; eases stress & aids electrolytes.

Enhances cell hydration, nutrient uptake, muscle action, BP control & oxygenation.
4.9/5.0 from 700+ Happy Customers
4.9/5.0 from 700+ Happy Customers
Ships in 24 Hours & Easy Returns
Why 70,000+ Happy Customers Use Hydrate
Why Hydrate Outshines the Rest!
Superior Electrolyte Balance
Zero Artificial Ingredients
Enhanced Nutrient Support
Curious About Hydrate? We've Got You Covered!
When should I take Hydrate?
It can be taken at any time of the day, ideally first thing in the morning to prevent mid-day fatigue, and around the time of sweating the most on exercise or hot days
Is Hydrate more than salt?
Hydrate contains a balance of electrolytes with 5 patented ingredients, addressing the common misconception that cramps are caused by a lack of only one electrolyte like potassium or sodium
Is it suitable for daily use?
Absolutely! Hydrate is designed for daily use to help you maintain proper hydration levels, no matter your activity level or lifestyle. Incorporating it into your daily routine can support your overall health and well-being.
Can I use it during workouts?
Yes, Hydrate is an excellent choice to use during workouts. It replenishes essential electrolytes lost through sweat, helping to maintain your performance and prevent dehydration during exercise.
Is it effective for recovery after strenuous activities?
Indeed, Hydrate is effective for recovery. After strenuous activities, it helps replenish electrolytes and nutrients, aiding in muscle recovery and minimizing post-workout fatigue.
Can I mix it with other beverages?
Yes, you can mix Hydrate with other beverages if you prefer. Adding it to water, juice, or even smoothies is a convenient way to customize your hydration experience.
Is it suitable for a healthy lifestyle?
Absolutely! Hydrate is designed to support a healthy lifestyle. It's a convenient way to ensure you stay properly hydrated while avoiding added sugars, chemicals, or artificial dyes.
Can it help with hangover recovery?
While Hydrate is not specifically marketed for hangover recovery, it can certainly assist in rehydrating your body after a night out. Proper hydration can help alleviate some hangover symptoms.
How does Hydrate boost endurance?
Hydrate boosts endurance by helping you maintain optimal hydration levels during physical activities. When your body is well-hydrated, it can function efficiently, enhancing endurance and overall performance.
Don't skip over this delicious mix! I use this mix every day in my watere and I don't know where I would be without it. I usually add a few little fresh lemon slices to my water after adding the drink mix and it tastes like a delicious drink from Sonic! A must buy 🤤"
4.9/5.0 from 700+ Happy Customers
Drinking water is hard.
Hydrate makes it easy.
30 day money back guarantee